Gannon Oils Gain OHSAS 18001 Certification
Monday, 28 February 2011 16:11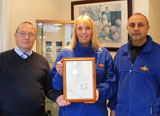 February 28th 2011, Poulton-le-Fylde, Lancashire - Gannon Oils Limited have gained OHSAS 18001 Accreditation as part of their continued growth plan.
Gannon Oils Limited, based in Poulton-le-Fylde, near Blackpool in Lancashire, and with a depot in Co. Durham, are a major supplier to clients worldwide of specialist industrial oils, lubricants and greases.
The OHSAS 18001 Occupational Health And Safety Certificate is the internationally recognised assessment specification for occupational health and safety management systems. It was developed by a selection of leading trade bodies, international standards and certification bodies to address a gap where no third-party certifiable international standard exists. This certification has only been achieved by less than 1% of UK businesses and this prestigious award is supported by the Government and recognised world-wide.
This accrediation adds to Gannon Oils' existing accreditations of ISO 9001:2008 (Quality Management) and ISO 14001 (Environmental Management).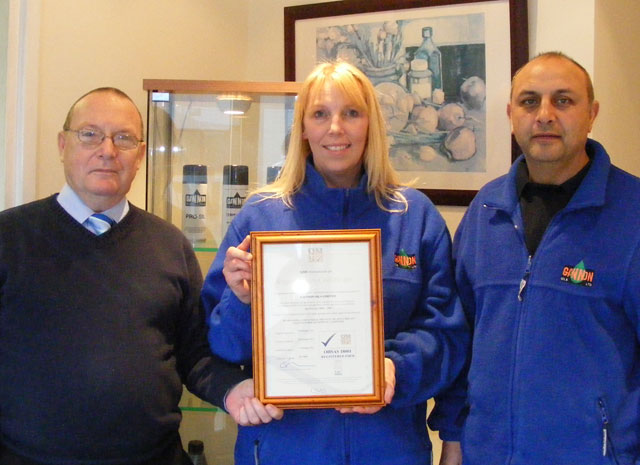 From left - Tom Graham (QMS Assessor), Kath MacDonald (Quality Manager) and Mark Gannon (MD)
Said a delighted Managing Director Mark Gannon "We have always been proud of the service we offer our clients and the way that we conduct our business including the importance we give to Occupational Health & Safety matters. Now with the award of BS OHSAS 18001 certification, this has been confirmed by outside experts who are used to judging standards on a daily basis in a wide variety of trades and industries."
Tom Graham, who undertook the assessment for QMS International plc, paid particular tribute to "the investment in people and training that enables Gannon Oils to provide an efficient and Occupational Health & Safety aware service to their customers."
Marketing and Press releases for Gannon Oils Limited are handled by Planting Solutions Limited, see www.planting-solutions.com
For further information, please contact:
Tel: +44 (0)1253 899240
Fax: +44 (0)1253 899280
Email: This e-mail address is being protected from spambots. You need JavaScript enabled to view it
Files related to this press release:
Gannon Oils Ltd Logo (colour PDF)
OHSAS 18001 Presentation photograph (from left - Tom Graham (QMS Assessor, Kath MacDonald (Quality Manager), Mark Gannon (MD)